Organic Vanilla Cultivation – Part 2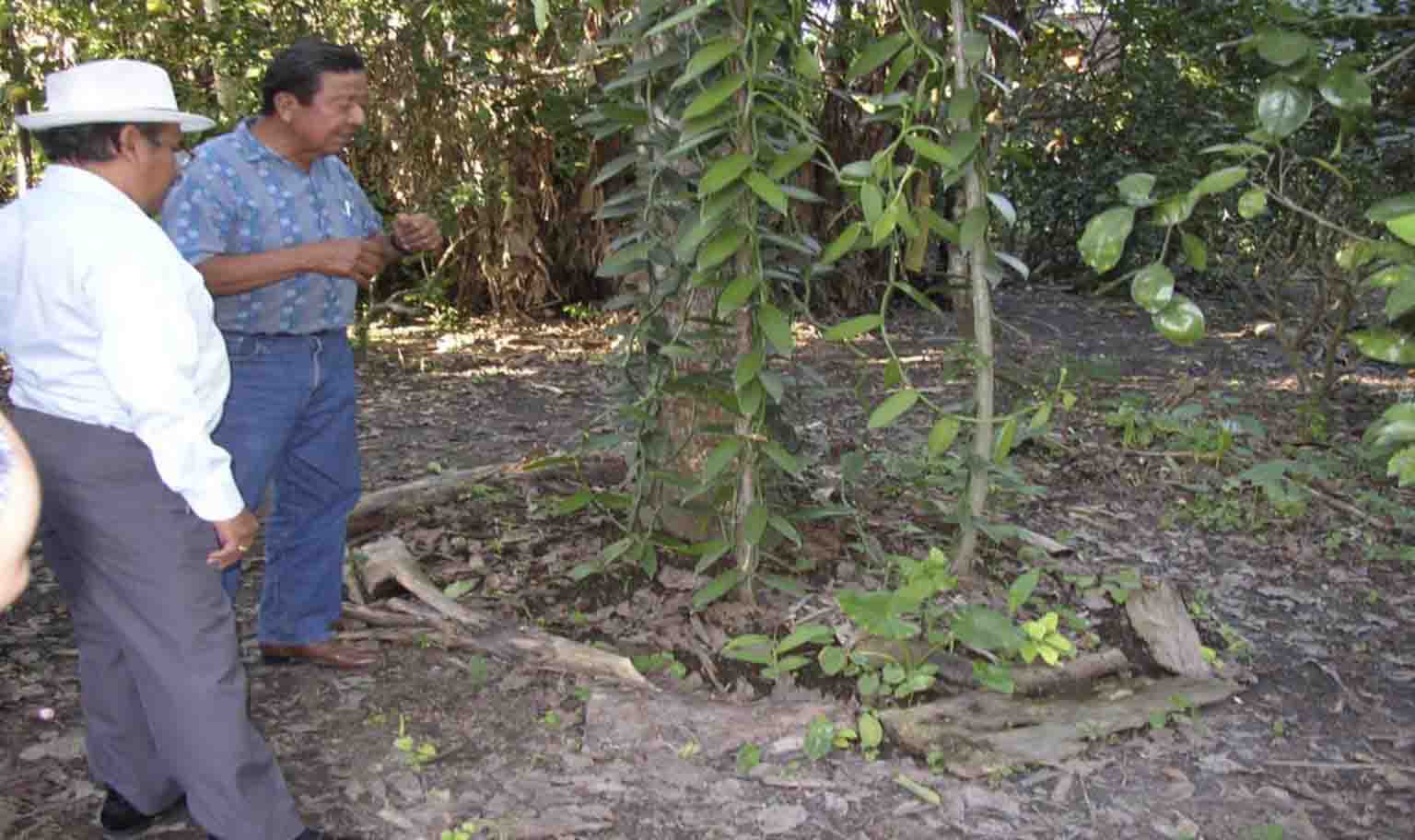 Note good application of compost to base of vines P4. In P3 collect all leaves and material from the farm and make another compost; leaves have a lot of potassium that is good for the vines.
REPLANT: P1.The flower for pollination grows in TOP of the leaf. Under the leaf you will always find a ROOT. Once the vine has produced vanilla beans you cut that part (4 roots under the leaf) and you bury them (leaf included) and let the vine side that did not produce yet OUT OF THE GROUND to grow and reproduce, total length 1.5 m. You should bury minimum 4 roots to make sure the plant takes, if 2 fail you steel have 2 to pick up water and nurishment. If you only bury 2 and 2 fail to take you will waste the whole vine so 4 is BEST. The more roots that take the more chances of survival and better nourishment to the plant. Again if you bury only one root the chances of failure is 60%. If you have small pieces of vine do not throw them away: plant them in a plastic bag and make a nursery wait until it grows about 1.5 meters and replant.Note below, thick stems and beautiful dark green leaves.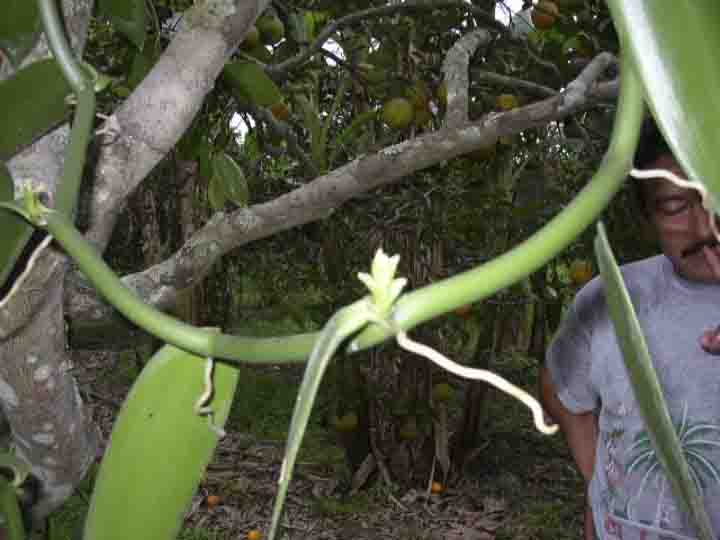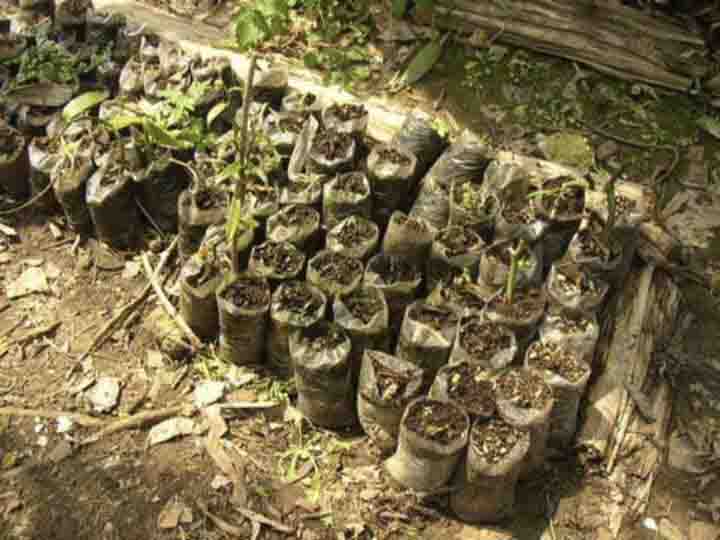 The development of thick and strong vines depends on good "black" soil. If your soil is brown or "weak" you can help it with compost. The only way you can fight vine disease "bugs", get a good harvest and guarantee survival of the vine is by good soil, or natural compost. A good sign that you are doing a good "nutritional" job on your vines is THICK DARK GREEN LEAVES AND SHAFTS. Note the retaining wall around the carousel: pieces of hairy banana tree and wood cut down the middle hold the water moisture. The vine roots love this "wet" environment and draw all their nutrients from here.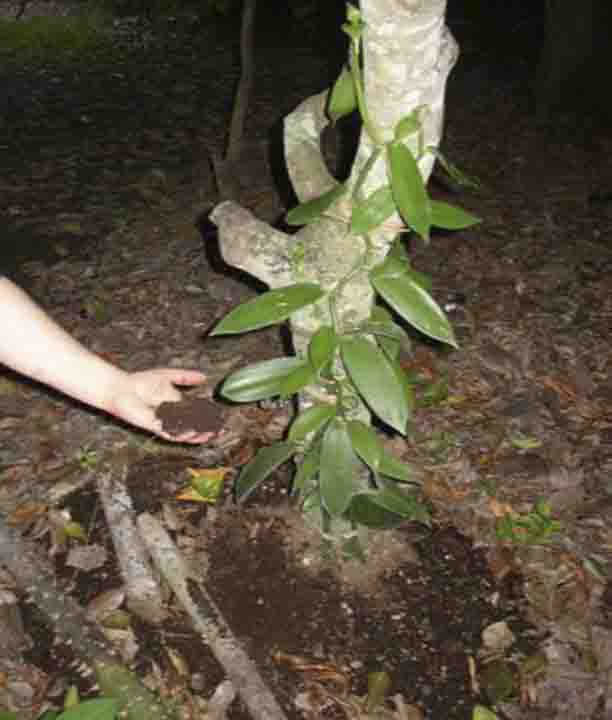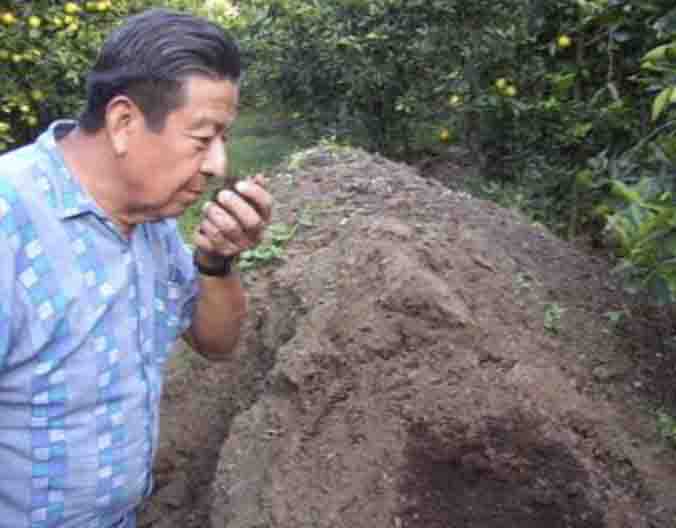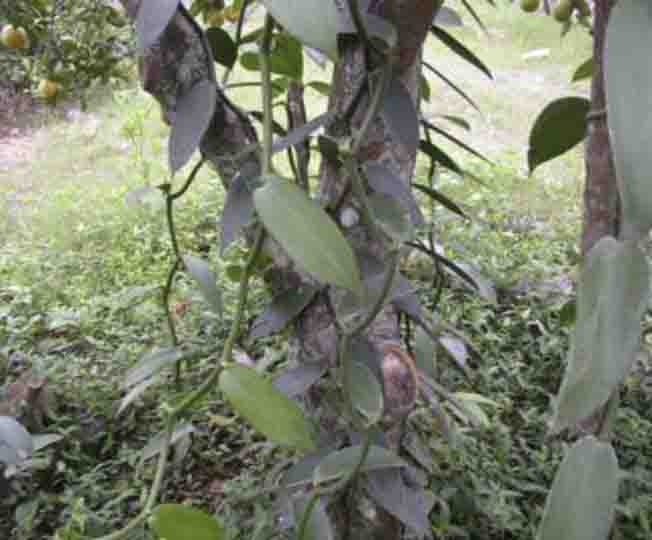 You can plant your vanilla vine in practically any tree that grows in the rain forest or in your existing orchard or plantation. The vanilla vine will attached itself to coffee, orange, lemon, banana, cacao, cedar, caoba, liquidambar etc,. As long as your have good shade, nourishment (good soil or compost) your vine will grow. You do NOT need to cut the rain forest or the trees in your property to plant guide trees it is an UNNECESSARY EXPENSE and it will take your vines up to 7 years to grow. If you use your existing trees around your property it will only take 2 years or less for your first harvest. If you have a "plantation" already, go to slides 13 and 15, for ways of increasing your production without cutting the rain forest. The more trees you cut the lower your production will be.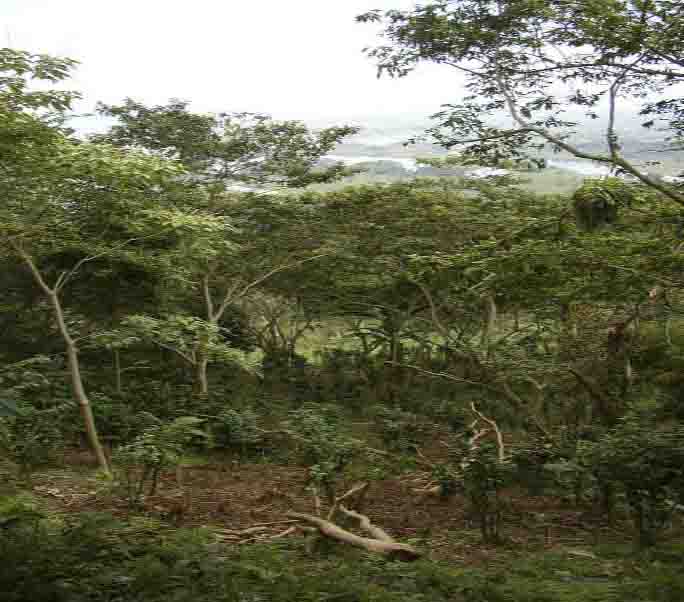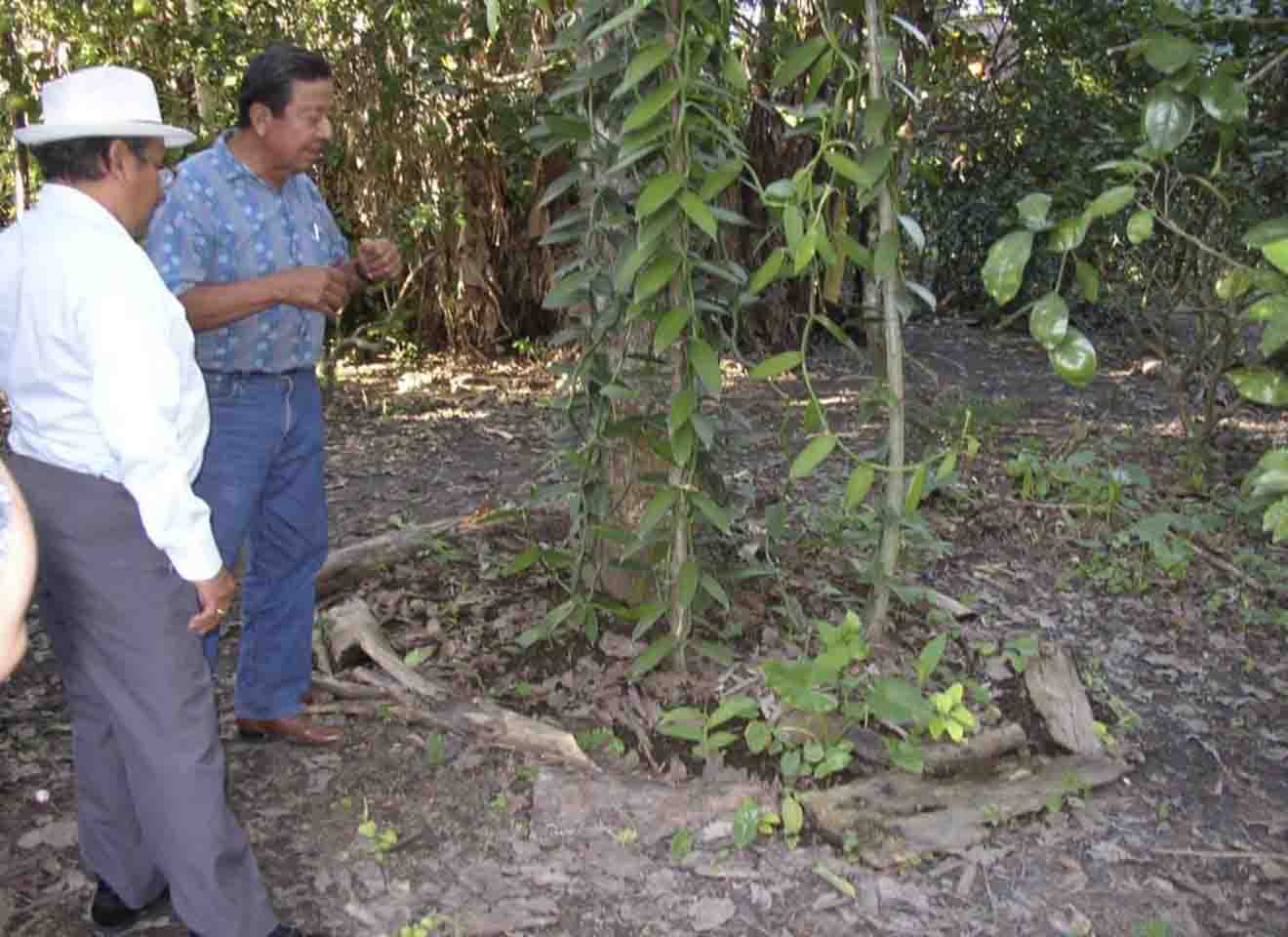 Here you have the beginning of planting in a carousel pattern around a cedar tree. The vanilla vine will "attach" itself to almost any tree that grows in the rain forest. You can expand your vanilla vines in a carousel or square pattern on rain trees around your property or in your guide trees in your plantation.
You do NOT need to clear the forest to plant vanilla vines. Clearing the forest will raise the temperature. You will have less moisture and you will need more water in dry spells furthermore you will have more start up expenses, it will take more time for your vines to root and you will loose from 40/60% of your vines for lack moisture, water and heat. So the forest canopy is essential to vanilla vine planting; the thicker your forest the more beans you will have. Thick forest produces moisture, and the more moisture the bigger your beans will be and the less you will have to work.