Delivery Times In Vanilla, Saffron Imports
Orders placed by 2:00 pm Pacific Time, Monday thru Friday, are usually shipped the same day. To assure that your shipment arrives by Christmas, please order by the dates specified below, according to the shipping method. Last delivery day before Christmas is Wednesday, December 24th.
Please allow yourself plenty of time to order; we ship most orders the day they are placed, but weather, traffic, and other conditions beyond our control may delay deliveries, so please order as soon as possible.
Shipping Method Order On or before:
Ground USA Tuesday, Dec.16 Order by 2:00pm PT
3 Day (3 Bus.Days) Thursday, Dec.18 Order by 2:00pm PT
2nd. Day Air Cont.(2 Bus.Days) Friday, Dec.19 Order by 2:00pm PT
Hawaii, Alaska & Puerto Rico Thursday,Dec. 18 Order by 2:00pm PT
The above delivery times are based on packages sent to the East Coast (orange area in the map). We are located in San Francisco, California, so depending on your location, ground delivery time may be shorter (for orders within the USA). See map below for reference. Please note that days are business days (Monday thru Friday). For example, if you are located in Texas, and order on Tuesday, you can expect your package to arrive the following Monday, in 4 business days. International orders will take longer to arrive, depending on your location. Also, please make sure to check the customs requirements and fees for your country.
*Info from UPS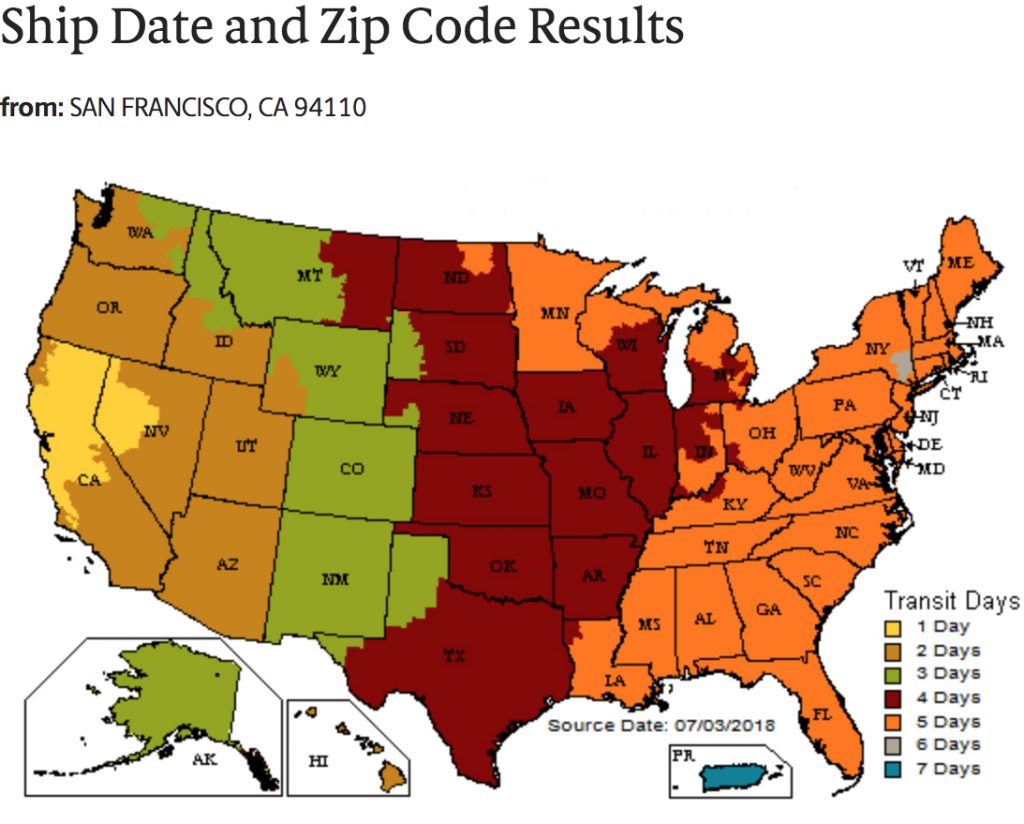 *Warning from UPS website
*Subject to the Tariff/Terms and Conditions of Service, UPS guarantees on-schedule delivery of packages, shipped via UPS's services, that are listed as guaranteed, or will refund your transportation charges. Guaranteed Service is not available in all areas and does not apply to shipments containing a package with an Additional Handling or Large Package surcharge. Scheduled business days and delivery schedules are revised occasionally due to changes in distribution and volume, especially during holiday periods. Service to some remote areas also may require additional delivery days. For current delivery schedules, service availability and information, and a description of the UPS service Guarantee, see the UPS Rate and Service Guide. The most up-to-date transit time details will be available at ups.com/ctc at the time of shipping. Certain commodities and high value shipments may require additional transit time for customs clearance.